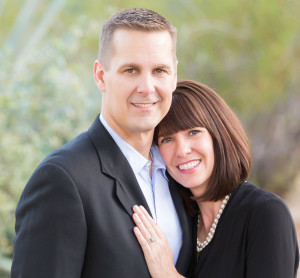 Our hope is that you will come and experience the presence of God, the bigness of His love, and the joy of belonging to His family! We invite you to come and be a part of all God is doing here at Evident Life Church. Our desire is that you would pursue God and experience the evident life found only in the person of Jesus Christ and the fullness of the Holy Spirit.
Pastor Eric & Velvet
---
OUR VISION:
At Evident Life Church, we are a people of prayer, pursuing God and loving others.
---
OUR MISSION:  
Encounter – Belong – Grow
Evident Life Church is embracing Jesus' Great Commission by helping people encounter God's presence, belong to His family, and grow in His love so that our town is transformed and our world impacted for God's glory.
We are a Spirit filled, Bible based church. We love God's Word and we love His presence. We love Jesus and we love people. We strive to worship God in Spirit and in Truth.
---
OUR PRIORITIES:  
The roots of an evident life go DEEP.
Discipleship
Evident Life is about equipping people to be fully alive followers of Christ who worship God in Spirit and in Truth. We believe that it is God's intention for His people to live lives of freedom and victory while bringing His love, compassion, righteousness, and justice into the world. It is the role of the church to prepare the Saints of God to do the work of His kingdom here on this earth. To this end, we are committed to being a community of believers who intentionally and thoughtfully seek God's Word for all truth while inviting the fullness of the Holy Spirit into our lives, our worship, our ministry, and our relationships. We will be fully alive in Christ as we purposefully respond to the Truth of God's Word and the presence of His Spirit.
Evangelism
As a New Testament Church, Evident Life embraces the Great Commission given by our Savior Jesus Christ, which commands us to share His Good News with this lost world. Evident Life is committed to personal, local, and global evangelism. We believe that there can be many different approaches to evangelism, but ultimately it must involve sharing the Gospel of Christ and teaching His precepts.
(Matthew 28:18-20)
Encounter
Evident Life is about helping all people develop an intimate relationship with God and encounter His presence. We believe that programs alone cannot change people's hearts. However, an encounter with the living God always changes people. Evident Life introduces people to the intimate and life-changing presence of God. This results in God filling their lives with His life and not just with religious activities. We worship God in a way that draws people into His presence. Our preaching and teaching are also designed to reveal God and open the way into His presence.
Prayer
Evident Life is called to be a house of prayer. "This is the confidence we have in approaching God: that if we ask anything according to his will, he hears us. And if we know that he hears us—whatever we ask—we know that we have what we asked of him." – 1 John 5:14-15
Prayer matters greatly and it changes things. Notice that the deepest root is prayer – it is the taproot: the largest, most central and most dominant root. It is the central root from which other roots sprout. Prayer is the taproot at evident Life Church.
Do we want our church to be healthy, full of life, effective, glorifying God? – Then we must grow the taproot and PRAY.
Do we want our community, our nation to change? – We must tap into prayer.
Do we want our marriages revived? PRAYER is the answer.
Do we want our children impacted? Pray for them, pray with them. Teach them to pray. Lead them in the way they should go. Prayer.
——————————————-
Family 
Evident Life acknowledges the importance of families (which include singles, widows, divorcees, grandparents, etc.) and is committed to maintaining a family-integrated culture.  We want families to experience the presence of God together and to be equipped as whole households for ministry. We affirm that men are called to be the spiritual covering and servant-leaders for their families. Therefore, we are committed to the task of equipping men to fulfill this God-given responsibility. It is the duty of parents to train up their children in the ways of our Lord. We are grateful that God gives special grace to single parents, enabling them to accomplish this kingdom task.  While we agree that discipleship starts in the home, it must reach out into our neighborhoods, our nation, and the world. Additionally, Evident Life is a multi-generational church, which values the interaction and involvement of all age groups.